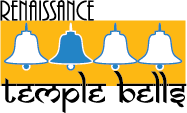 Welcome to the mind's inner sanctum.
2 & 3 Bedroom Lifestyle Apartments, Off Chord Road, Opp. ISKCON, Rajaji Nagar, Bangalore
Over the years, Renaissance has set the standard for building exceptional residential communities, creating amenities that challenge and exhilarate, while upholding an unwavering commitment to quality and delivery.
Renaissance Temple Bells, with 342 Units in 10 towers has an epic style that exemplifies sophistication and glamour. At Renaissance Temple Bells, attention to detail are paramount. Its unrivalled amenities include a grand entrance lobby, exotic landscaping, private meditation areas, fitness rooms, swimming pool and club facilities. While scenic walkways and waterfront features lend the project a quaint and old world charm, its contemporary design offers an eclectic life-style. 2 & 3 Bedroom luxury apartments each offering unique privacy and spectacular views to the ISKCON temple and the surrounding greenery. Each unit is designed to offer ample light and ventilation through large windows and adequate outdoor living spaces.
Eco-friendly building concepts.
Adopting a holistic and balanced approach to design, Renaissance Holdings has ensured that Renaissance Temple Bells, is a project that incorporates, rain water harvesting among other eco-friendly measures.